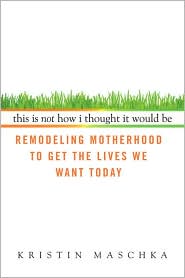 This book is an important look at motherhood and family dynamics in the 21st century—by the past president of Mothers & More.Kristin Maschka shines a spotlight on the complex issues mothers face—at work, in their homes, their lives, and with their partners— and shows how the hidden assumptions that society, the media, public policy, and women themselves hold about motherhood can keep mothers from having the lives they want.Maschka weaves together her own story, anecdotes from mothers all over the country, and a deep knowledge of history and society to offer mothers a comforting, often funny read that helps them see themselves and the world around them in a whole new way. At the same time she provides specific actions women can take today to remodel motherhood to live the lives they always thought they would. Purchase your copy online today.
Read a sample from the book.
Check out more resources related to Remodeling Motherhood. Including this blog post on sharing family work with links to sample lists of work for you to customize.
Testimonials
"Kristin Maschka is a beacon of light in a sea of darkness about the possibilities for women looking to do "mothering and more" with their lives"… All women and men looking to juggle the multiple roles of parent, worker, spouse, and more should read this book, soon and often."
—Ed McCaffery, author of Taxing Women
"Countless women are blindsided by the societal side effects of motherhood. This book brings mothers' lives and realities into sharp focus and provides readers with a vision— tips and tools—  for building a brighter future for themselves and all mothers."
— Joanne Brundage, founder and CEO of Mothers & More
"Did you wake up one day, after you had kids, and find that somehow your marriage had slipped into the 1950's? If you feel things heading in this direction, you need this book."
—Joan Williams, Professor, Director of the WorkLife Law Center at Hastings law School, and author of Unbending Gender
"Kristin tells the truth and isn't selling an instant cure. These are tough, knotty issues and we won't solve them without the kind of honesty that she brings to the subject."
—Margaret Heffernan, author of The Naked Truth: A Modern Women's Manifesto on Business and What Really Matters and How She Does It