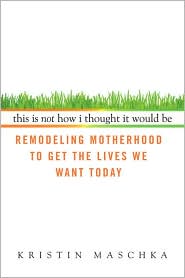 This is Not How I Thought it Would Be: Remodeling Motherhood to Get the Lives We Want Today is an important look at motherhood and family dynamics in the 21st century—by the past president of Mothers & More.
Kristin Maschka shines a spotlight on the complex issues mothers face—at work, in their homes, their lives, and with their partners— and shows how the hidden assumptions that society, the media, public policy, and women themselves hold about motherhood can keep mothers from having the lives they want.
Maschka weaves together her own story, anecdotes from mothers all over the country, and a deep knowledge of history and society to offer mothers a comforting, often funny read that helps them see themselves and the world around them in a whole new way. At the same time she provides specific actions women can take today to remodel motherhood to live the lives they always thought they would.
Click to purchase your copy of This Is Not How I Thought It Would Be: Remodeling Motherhood to Get the Lives We Want Today
or find it at any major bookseller.
Read a sample from the book.
Check out more resources related to Remodeling Motherhood. Including this blog post on sharing family work with links to sample lists of work for you to customize.
Testimonials
"Kristin Maschka is a beacon of light in a sea of darkness about the possibilities for women looking to do "mothering and more" with their lives"… All women and men looking to juggle the multiple roles of parent, worker, spouse, and more should read this book, soon and often."
—Ed McCaffery, author of Taxing Women
"Countless women are blindsided by the societal side effects of motherhood. This book brings mothers' lives and realities into sharp focus and provides readers with a vision— tips and tools—  for building a brighter future for themselves and all mothers."
— Joanne Brundage, founder and CEO of Mothers & More
"Did you wake up one day, after you had kids, and find that somehow your marriage had slipped into the 1950's? If you feel things heading in this direction, you need this book."
—Joan Williams, Professor, Director of the WorkLife Law Center at Hastings law School, and author of Unbending Gender
"Kristin tells the truth and isn't selling an instant cure. These are tough, knotty issues and we won't solve them without the kind of honesty that she brings to the subject."
—Margaret Heffernan, author of The Naked Truth: A Modern Women's Manifesto on Business and What Really Matters and How She Does It
Kristin Maschka really gets it – motherhood is not all fuzzy blankets, first smiles, and pastel-colored nurseries. She's honest enough to admit that the joyful arrival of children can be accompanied by tremendous self-doubt, anxiety, and inner conflict.  Mothers inherit a legacy of out-dated assumptions, unfair expectations, and a fair amount of guilt no matter what they do.  In relating her own experience with equal parts insight and hilarity, Kristin paints a nuanced portrait of what it really means to be a 21st century woman with children.
This book will delight, comfort, and educate you – don't miss it!
—Valerie A. Young, National Association of Mothers' Centers (NAMC)
Vast numbers of women are shocked to run into the Maternal Wall way before they get to the glass ceiling.  Remodeling Motherhood offers plans for some elegant doors one can build in the Maternal Wall. Every working woman who is pregnant for the first time should read this book.
— Kristin Rowe-Finkbeiner and Joan Blades Co-Founders MomsRising.org and Co-Authors of The Motherhood Manifesto
This is Not How I Thought It Would Be is a deeply candid, thoughtful and in the end wonderfully practical book about how to navigate the shock that parenthood brings to even the most enlightened two-career couples.  If you're a new mother wondering (in the few hours during the day when you're awake and conscious) why you're "not having it all," this book could save your life!
— Sandra Tsing Loh, author of Mother on Fire
Let's Remodel Motherhood!  But let's not stop there…while we are at it, let's also remodel the way we work, live and play. Kristin has written an important book that will no doubt be an eye-opening read for parents everywhere.
— Cali Ressler and Jody Thompson, Co-Creators of ROWE (Results-Only Work Environment) and Co-Authors of Why Work Sucks and How to Fix It
This book takes you deep inside a couple's remaking of their marriage to create happy lives for both parents.  A standing ovation to Kristin Maschka for sharing this inspiring personal journey to genuine equally shared parenting!
— Amy and Marc Vachon, bloggers and authors of Equally Shared Parenting (forthcoming January 2010)
"Kristin's Maschka's engaging, informative book has the power to change how women think and feel about motherhood.  You'll know you are not alone with Kristin by your side.  This amazing eye-opener stands out from the pack–read it today!"
— Amy Tiemann, Ph. D., author of Mojo Mom: Nurturing Your Self While Raising a Family
This is Not How I Thought It Would Be is a thoughtful and thought-provoking look at the realities and myths of modern parenthood. Any mother — or father — who worries they might be alone in all this will find this book both a practical guide and a much-needed solace.
— Andrea Buchanan, author of Mother Shock: Loving Every (Other) Minute of It and Co-Author The Daring Book for Girls 
Did you wake up one day, after you had kids, and find that somehow your marriage had slipped into the 1950s?  If you feel things heading in this direction, you need this book.  With an impressive grasp of the research and a humane appreciation of the complexities of marriage, this book tells you how to start from wherever you are today, and work step by step towards creating the life, and the marriage, you really want.
— Joan Williams, Director of the WorkLife Law Center at UC Hastings College of Law and author of Unbending Gender: Why Family and Work Conflict and What to Do About It 
Reading This Is Not How I Thought It Would Be is like sitting alongside your best mom friend for a down 'n dirty chat about the realities of motherhood. You'll appreciate Maschka's engaging style as she candidly explores the real-life challenges and questions we all face as mothers. A must-read for all moms.
— Michele Dortch, Founder and Chief Editor of The Integrated Mother website.
As President of Mothers & More, Kristin Maschka has worked tirelessly to support and advocate for mothers. Now she's written a book that distills what she's learned about the unspoken rules that define mothers' lives–and why bending or breaking those rules will lead to happier lives for women and their families.
—Martha M. Bullen, coauthor, Staying Home: From Full-time Professional to Full-time Parent
If there are days you feel being a mother is more than you bargained for, this charming, funny book is a must read. Reporting from the front lines of modern motherhood, Kristin Maschka intertwines her experiences with simple, smart tools to remodel your life. From saving time to saving money, and everything in between, she has it all covered.
—Candace Bahr and Ginita Wall, co-founders of WIFE.org and MoneyClubs.com
After years of frustration for millions, the time has come for real change around our work/life options.  Kristin Maschka has written a great manual for that change—  for PARENTS of both sexes who want satisfying work and family lives, not one or the other.
— Elizabeth Gregory, author of Ready: Why Women Are Embracing the New Later Motherhood
This is an 'every woman's' book that speaks to more than today's generation of mothers.  Kristin is incredibly smart, insightful and articulate. She is able to weave our "her story" into her own story in a most interesting way.
— Susan W. Miller, Founder California Career Services .